At the beginning of 2018 I was little more than a beginner when it comes to soaring.  Although I had first learned to fly gliders all the way back in 1983, I had not flown at all for 30 years.  I had only recently started all over again when I regained my glider pilot's license in Austria in June 2017, followed by a US glider certificate in August 2017. By the end of 2017 I had still less than 100 hours as pilot in command.
My goal for 2018 was to pull myself out of the beginner category, develop my skills, and advance to intermediate soaring pilot. Below are some of the highlights of my soaring year.
The first opportunity to learn came early in January when the combination of westerly winds flowing over the Continental Divide and a stable air mass conjured oscillating mountain waves, beautifully marked by long lines of rotor clouds, thanks to just the right level of moisture content. After releasing from tow at just 7,900 feet, I climbed through 17,000 feet 15 minutes later, and was able to practice transitioning between wave bars upwind and downwind.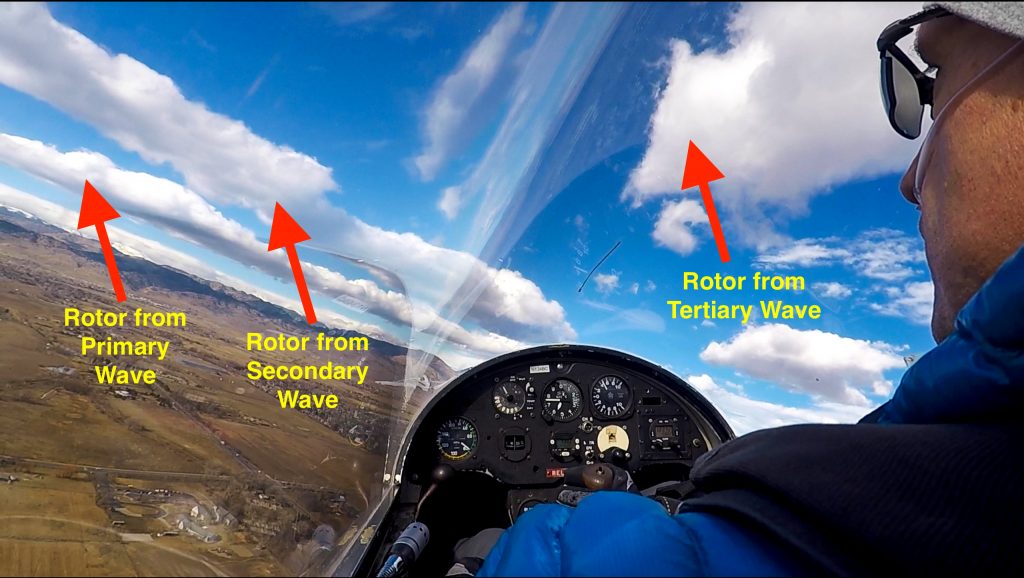 The arrival of Spring promised longer days, more sunshine, and thermals. Ironically, my first thermal flight of the year was under mostly overcast skies.  But the day was characterized by a highly unstable air mass, which, although prone to early over-development, generated thermal updrafts very quickly and easily.  I kept heading for spots where the sun had just penetrated the clouds even if it was just for 10 to 15 minutes, and often this was enough to break another thermal off the ground. Although I couldn't go very far, the rising air kept me up and interested for about three hours.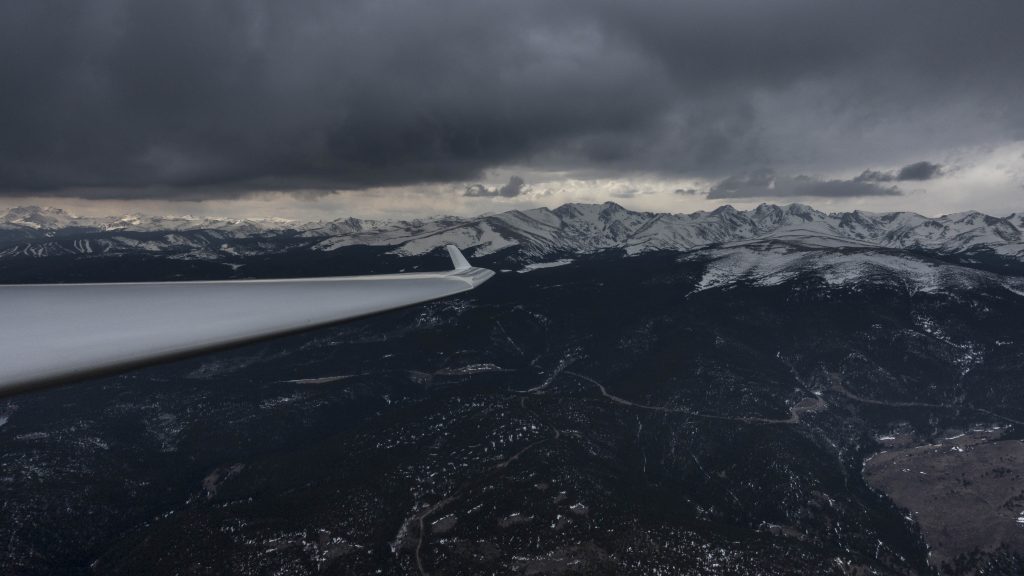 Spring time is fickle in Colorado and the winter can be difficult to shake off. And so April brought back the opportunity for another late-season wave flight, which turned out to become the flight with the highest average speed for the day on OLC worldwide. I had not even tried to go fast but flying in strong wave lift along a long mountain range basically forces you to maintain a straight course and you have to put the nose down and speed up simply to stay below Class A airspace.  The result was a 325 kilometer flight with an average speed of 152 kph (82kts).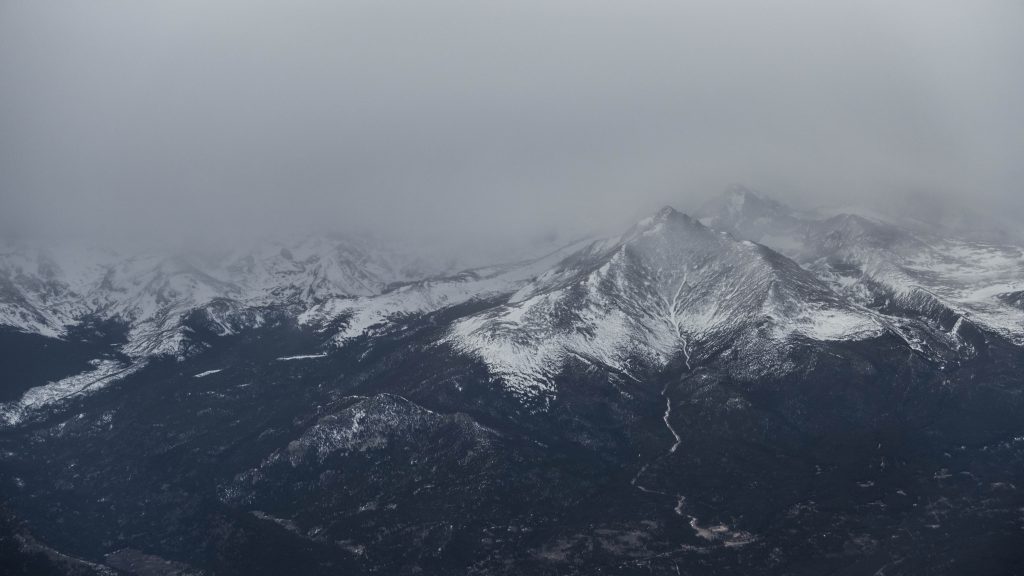 The Soaring Society of Boulder is one of the most successful clubs in the annual OLC Speed League competition in the United States, and I felt compelled to test my skills on the first Speed League Weekend. It was a challenging day with weak thermal lift over the foothills and a strong inversion over the prairie. A convergence line sat almost on top of the Continental Divide, promising better lift further west but I was unable to reach it. I ended up scratching along in weak lift over the foothills between 500 and 1000 ft AGL, resulting in a 150km flight with an average speed of just 42.6 kph. Not good enough but a worthy attempt.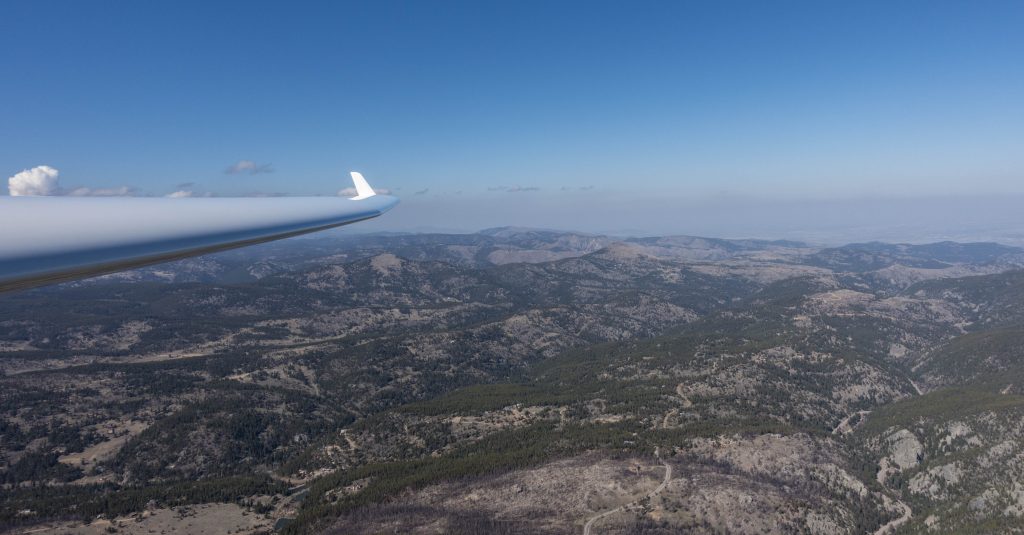 On May 20, I ventured for the first time beyond gliding range of any airport by flying into South Park and getting within 20 miles of Pike's Peak.  It's a strange sensation when you realize that you are truly dependent on the elements and your skills to interpret and use them to your advantage. There were also other great lessons for me in this flight such as speeding along under a cloud street for 30 miles at 220 kph, and really learning to understand the significance of the convergence line that so often characterizes the soaring conditions along the Continental Divide.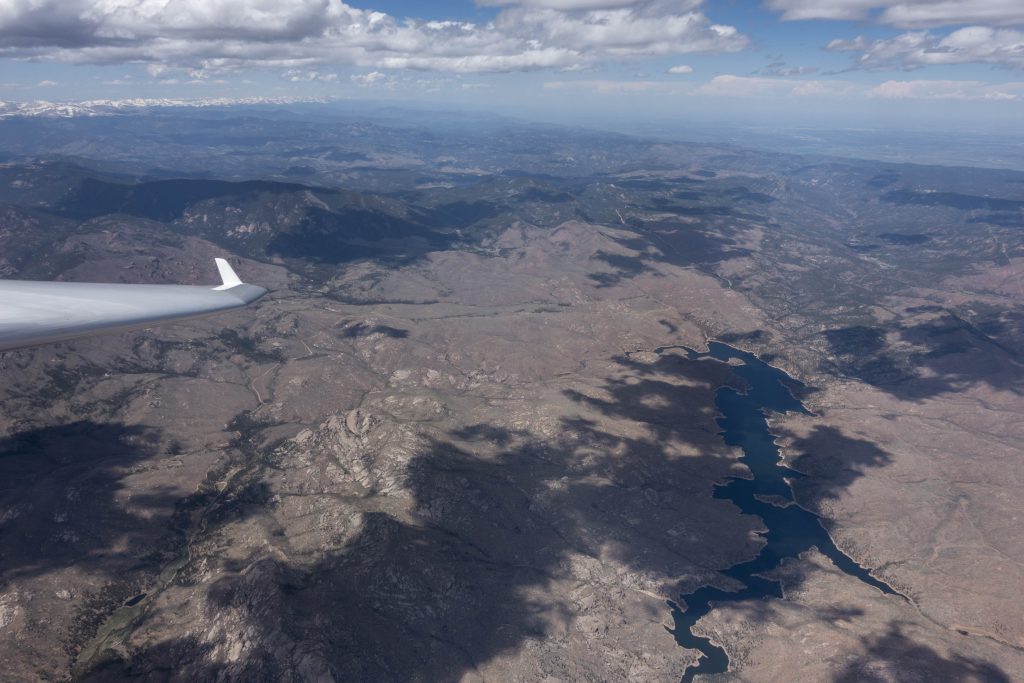 Another strong convergence line day allowed me to plan and execute a speed run along the foothills and fly a pre-declared 300 km triangle, thus earning Diamond Goal in 2 hours and 34 minutes.  The flight was also the fastest from Boulder for the day, earning 118 points for the OLC Speed League.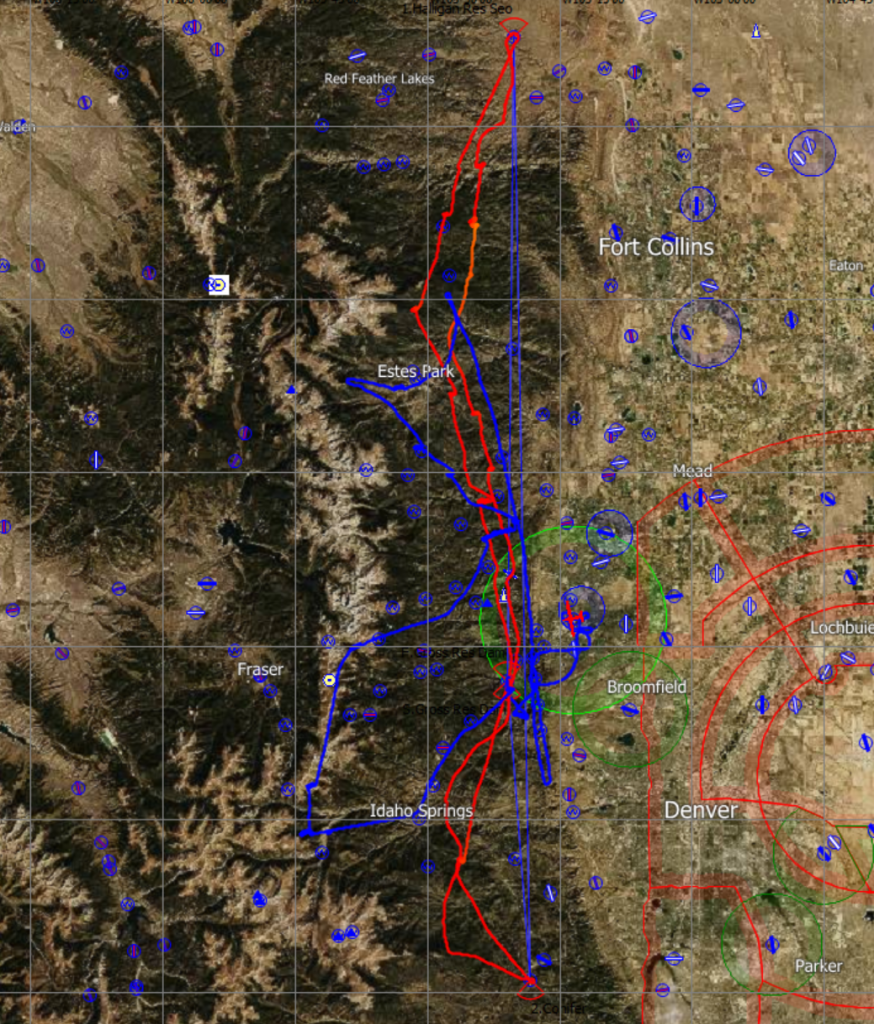 One of the greatest soaring challenges for any pilot is to fly above Colorado's 14ers – mountain peaks that are more than 14,000 feet tall.  There are 53 of them (58 if you also count adjacent peaks), and very few pilots have conquered them all – it's a quest that can take an entire soaring career and still remain elusive.  In 2018 I started out on my own attempt. My flight on July 19 took me into the Mosquito Range enabling me to tick five 14ers off my list in one single flight bringing my total to eleven. (But that only means that I now have collected the easy ones – it's going to get much harder from here on out…)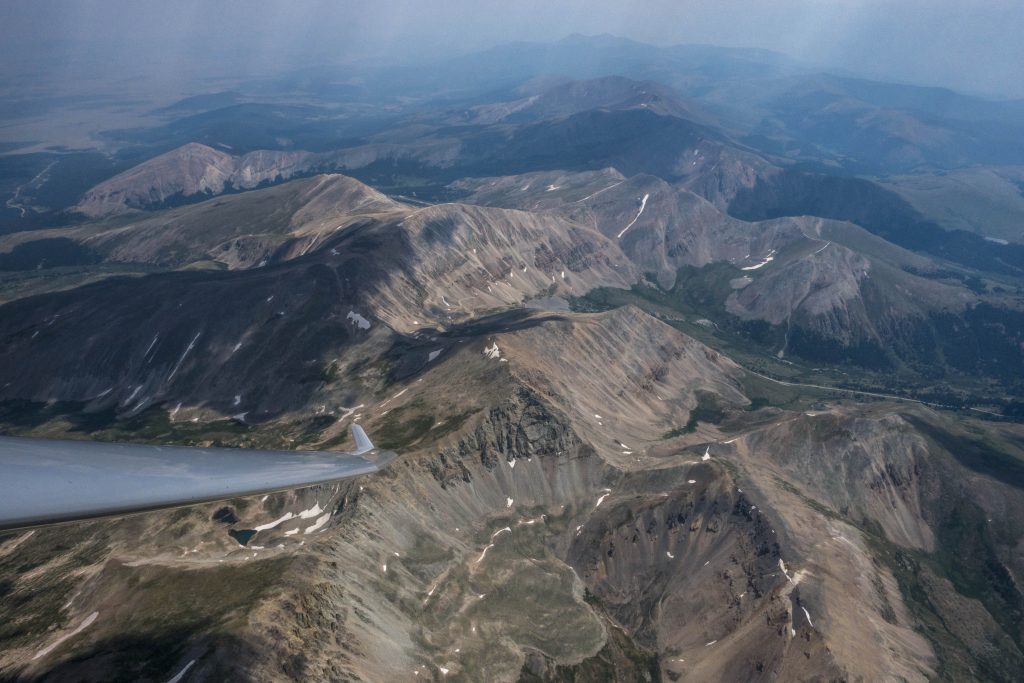 August took us to Europe to visit family and friends. By this time of the year the local peak soaring season is usually coming to an end, and I knew I had to take the first opportunity if I wanted to do some cross-country flying. That chance came  on August 4 when I was able to fly my first pre-declared 300 km triangle in the Alps, taking me along the main spine of the Alps, soaring "from bone to bone".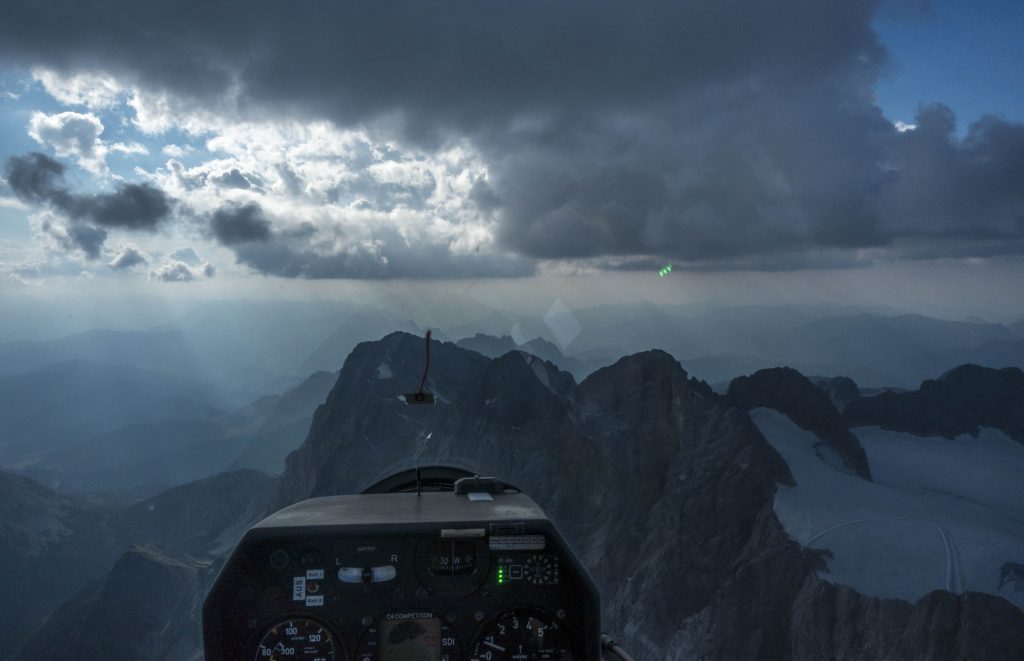 As expected, soaring conditions deteriorated throughout August but that gave me the opportunity to add a self-starter endorsement to my Austrian glider pilot's license. And, occasionally, I still found the opportunity for a nice soaring flight, even when conditions had become challenging.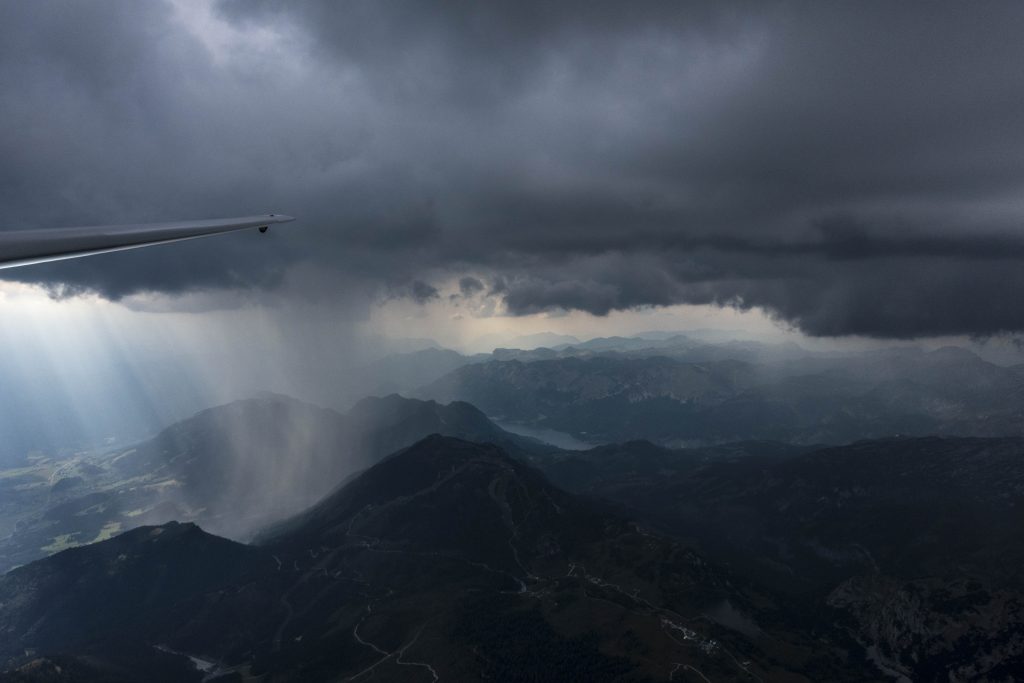 One of the great attractions of soaring is that the learning never ends. The weather phenomena that enable us to soar are extremely complex and forever changing. Reading the sun, the ground, and the sky and anticipating what will happen in the next 10 minutes, in the next hour, and in the next 3-5 hours is a constant challenge. Deciphering how it will affect the movement of air currents and the location of the best lines of lift is an even greater puzzle.
I have definitely made progress in 2018 but I am also well aware of how little I still know. Which only makes me look forward to the 2019 soaring season.
2018 Milestones:
Silver Badge
Gold Badge
Diamond Goal (3 times: twice in Colorado, once in Austria)
First flight over 500km
Flown Above 11 Colorado 14ers
Self-starter license, Austria
Fastest flight on one day on OLC, worldwide
2018 Basic Stats:
59 Glider Flights
of which 48 as pilot in command
of which 11 as 2nd pilot
Total Soaring Time:  101 hours and 54 minutes
of which as Pilot in Command: 95 hrs and 48 minutes
of which as 2nd Pilot: 6 hrs and 6 minutes
Types of Gliders Flown:
Schweitzer SGS 1-34
Schleicher ASK 21
Schempp-Hirth Discus CS
DG Flugzeugbau DG 505
Rolladen Schneider LS4b
DG Flugzeugbau DG 1001
Falke SF 25c
Airports:
KBDU – Boulder, CO, USA
LOGO – Niederoeblarn, Austria