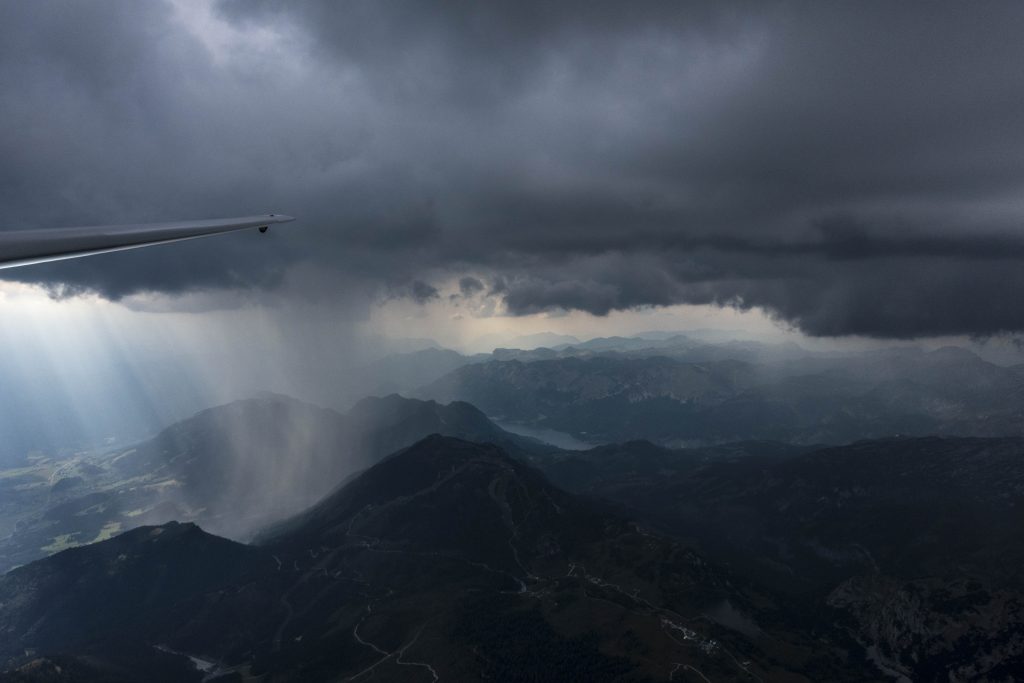 On August 21/22 I earned my Austrian add-on license to fly self-starting gliders (with the aid of a built-in propeller engine).  This took 14 takeoffs on day one and another 11 takeoffs on day 2 for the required minimum of 10 flights with an instructor and 15 solo flights.  All of these flights were in a Falke SF25c motor glider – with a glide ratio of less than 1:20 not exactly the most efficient machine…
Once in a while it is nice to fly a lot of patterns – you get really proficient at takeoffs and landings. Being able to confidently land a glider again and again on the same spot and at the absolute minimum speed is definitely a useful skill to have.  After completing 11 flights on day 2 in just one hour and a half I had the entire afternoon open to actually go soaring on what looked like perhaps one of the last good thermal days of the season.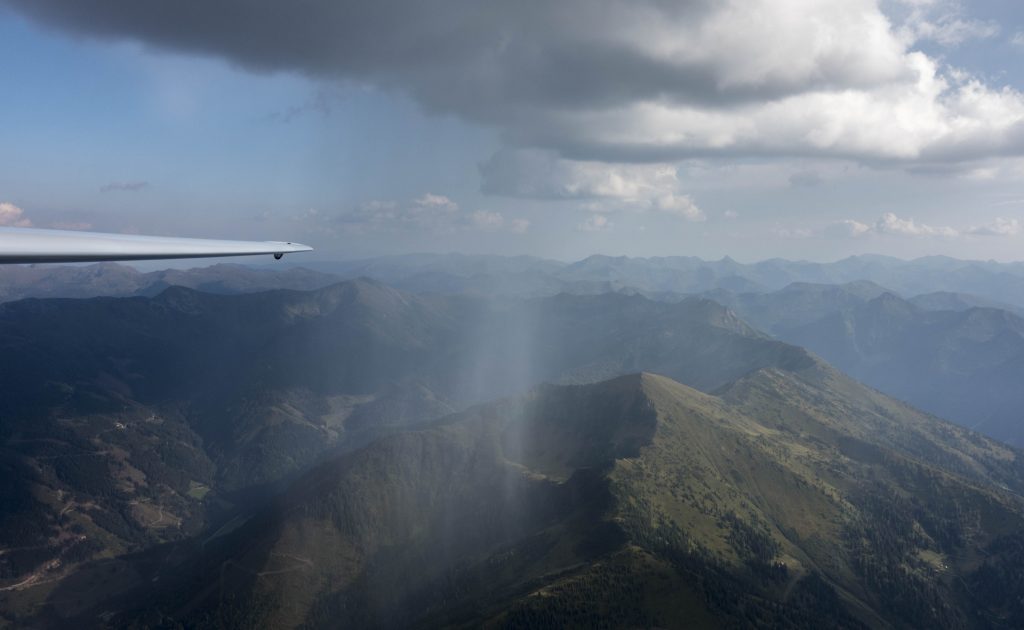 I had no glider reserved and was lucky that the club's DG 1001 was available.  The air mass looked quite unstable with a substantial risk of overdevelopment so I decided that I wouldn't venture much beyond glide range of the airport and keep a good eye on the weather.
Once again I released above the trusted Karlspitz.  To my great surprise there was no lift to be had above its ridge lines.  After trying for several minutes I headed under the cloud above the next ridge.  Six minutes later I had climbed 3,000 feet and was just below cloud base, at 2,900m MSL.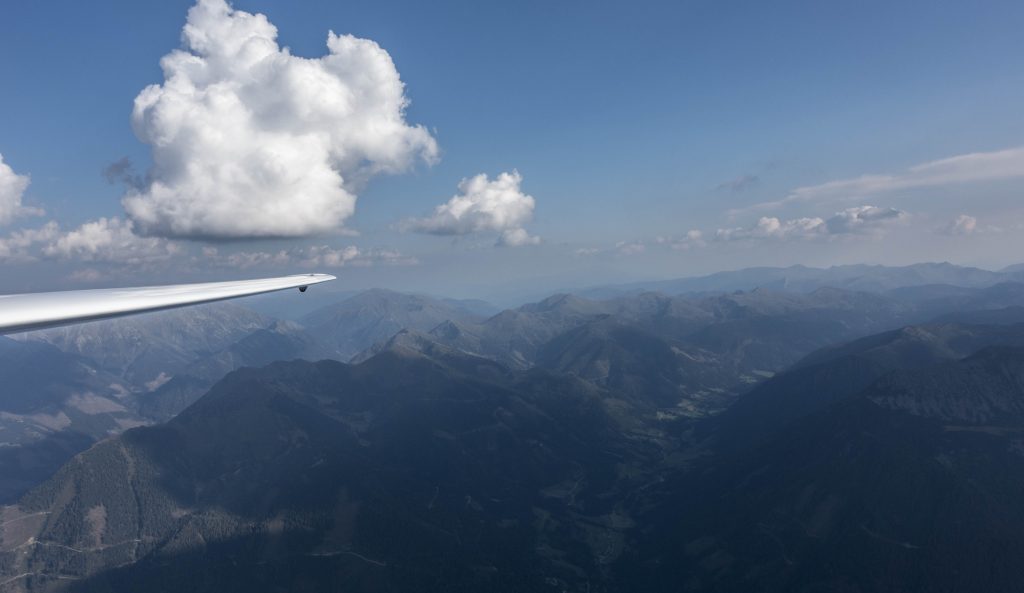 I headed west towards Schladming but could not find any lift above the next two ridges.  A towering thundercloud enveloped Dachstein, on the other side of the valley, approx.  15km away.  I suspected that it sucked all the available energy in its direction, leaving nothing for me to climb in.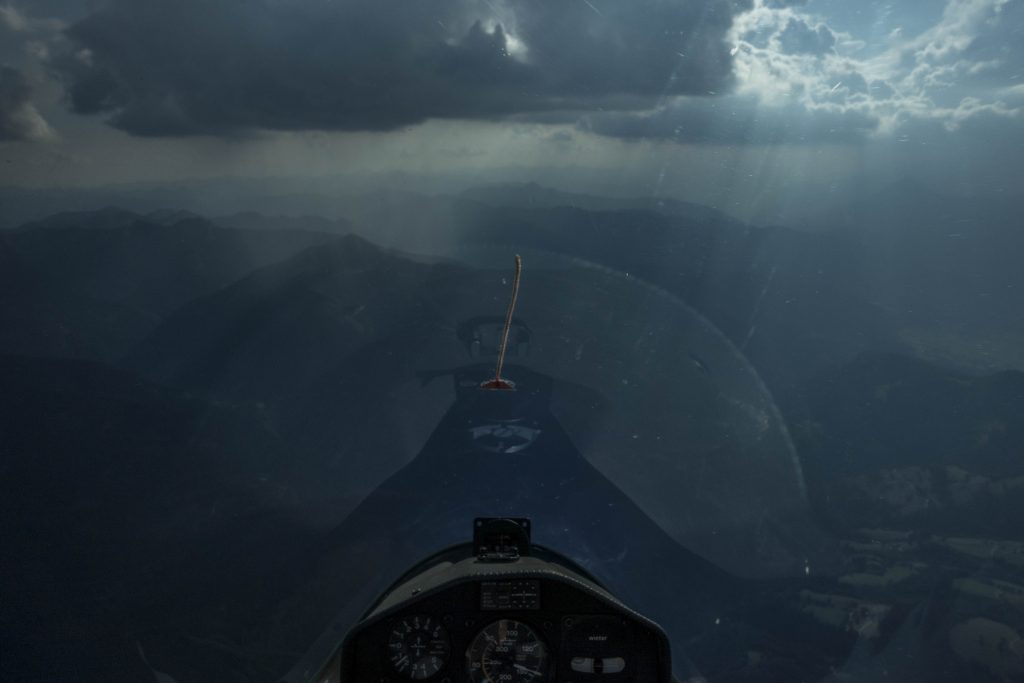 I decided to turn around and found the good lift just where I had left it 20 minutes earlier.  Back at cloud base I crossed the Enns Valley and found my next climb right above the summit of Grimming where I climbed to 3,100m.
The next line of clouds was 10km NNE.  It was already quite dark but I still found lift under the street as I headed east past the town of Liezen.  Rain began to fall and I continued further east where I found a weak climb above Dürrenschöberl.  Another dark cloud promised strong lift 12km further east above Admonter Reichenstein.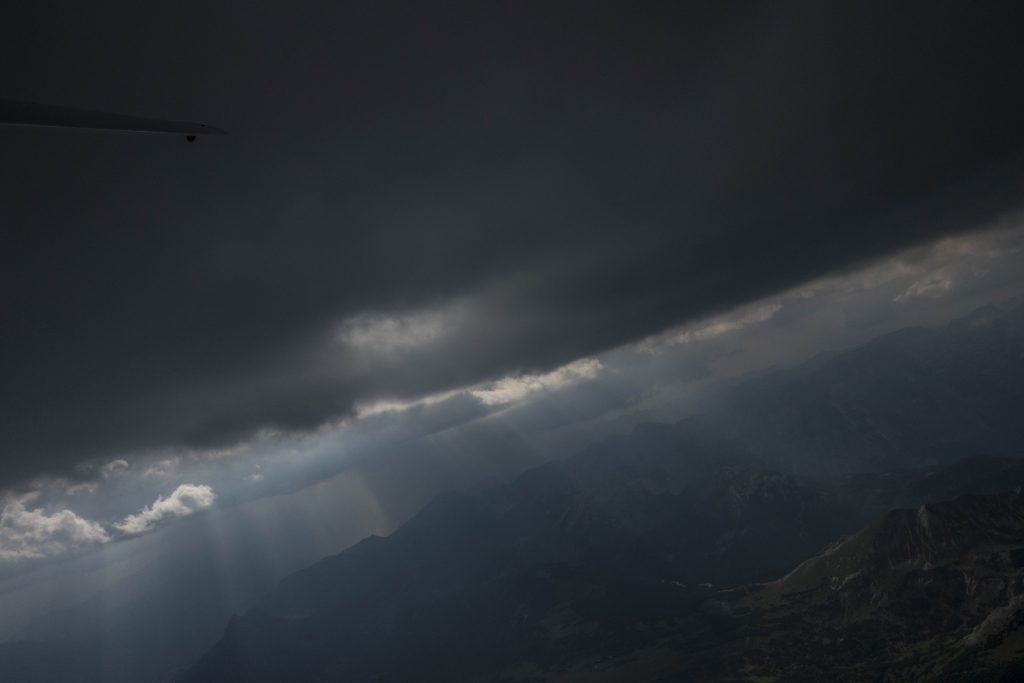 It took me less than 5 minutes to get there and I could observe the cloud getting visibly darker as I approached.  Just when I thought that I was connecting with lift, the cloud's development peaked and rain mixed with hail started to fall.  I turned the ship around in no time and headed back to where I just came from.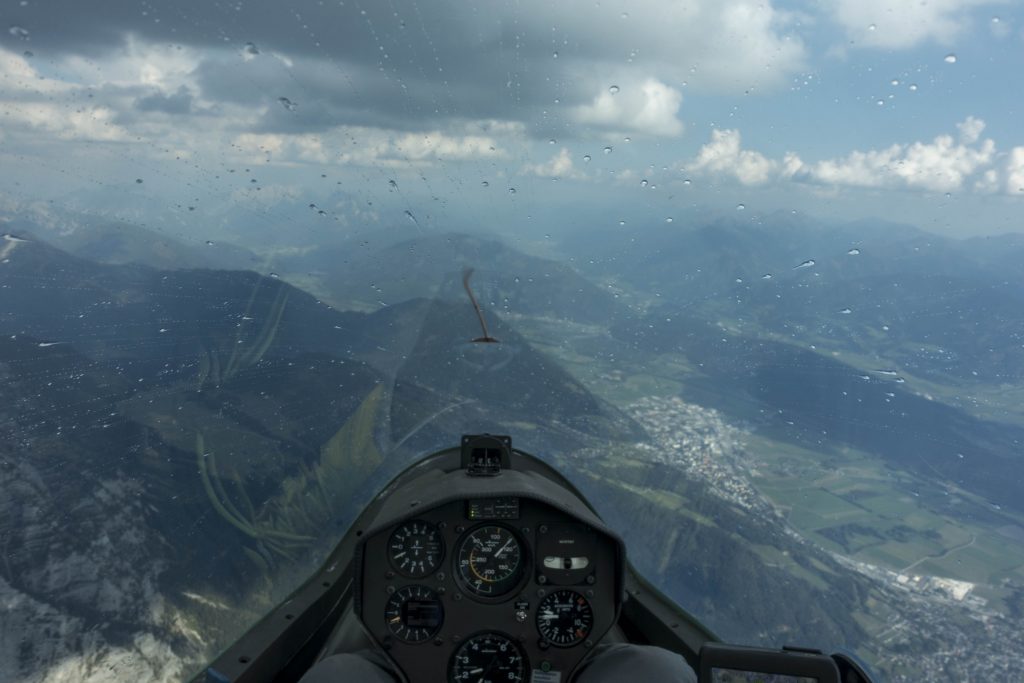 I wasn't sure whether Dürrenschöberl would continue to provide lift.  Technically I was still within glide range of Niederöblarn but the only route to get there from my altitude would lead through the military airspace around Aigen, which meant that I would have to ask for clearance to cross it.
Just as I was about to look up the radio frequency of Aigen, I connected with strong lift again.  Once again I climbed 3,000 feet within 6 minutes, gaining ample height to stay clear of the military airspace.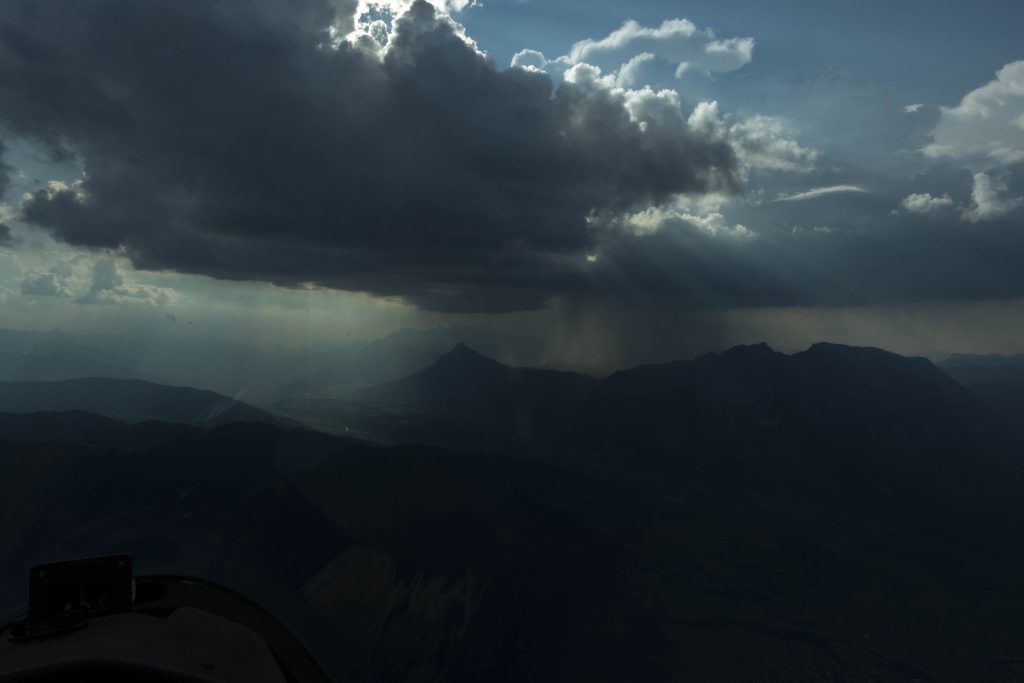 The skies were now rapidly overdeveloping almost everywhere.  I headed back towards my initial release point above Karlspitz where I could see a monster of a cumulonimbus cloud towering to my right, north of the airfield behind the Grimming.  Rain was also falling to my left.
The only area that still looked promising was further west on the south side of the Enns Valley.  I had to decide whether to continue my flight in that direction and wait for the storm to pass or to get down and land before the storm would reach the airport.
I radioed ground operations with my intention to return immediately and land within 3-5 minutes.  Two minutes later I entered the traffic pattern, having lost 3,500 feet.  At this point the wind had picked up and ground operations had asked all planes to return to the airfield immediately.  I waited for other traffic to clear the runway and managed to spot-land the DG 1001 in turbulent north-westerly winds less than three minutes later.
The flight track is here.
Lessons Learned
Pattern practice pays off.   We all practice takeoffs and landings a lot during initial training.  After that we don't do it nearly as often.  We might fly 50-100 hours in a season but if our average flight is 5 hours long this may only entail 10-20 takeoffs and landings.  Having practiced 25 landings in 2 days for my self-start license prepared me well for landing a completely different ship in challenging conditions.
There's a fine line between strong lift and hail. The development of thunderclouds in the mountains can happen very quickly.  One minute a cloud is still fully developing and producing very strong lift, and one minute later heavy rains and even hail can fall from it.  Never count on a rapidly developing cloud to provide needed lift as you may be forced to fly away from it before getting a chance to climb.
Don't dilly-dally when a storm is approaching the airfield.  When I spotted the towering cb 15 km northwest of the airfield I had to make a quick decision: land immediately or fly west and wait for the storm to pass. I believe either decision was acceptable under the circumstances. (I opted for the immediate landing because of the possibility of additional storms.) But making and executing a decision quickly was important so I could avoid a situation where I would have been forced to land in dangerous conditions.