At my club, the Soaring Society of Boulder, we are trying to help freshly minted glider pilots who are eager to develop their skills but are unsure how to go about it.  Stats show that a large percentage of recently-trained pilots exit our sport long before they have experienced what's possible.  However, those who reach for the challenge, often find a passion that lasts a lifetime.
I believe that one key tool that can help a new pilot's development is a set of standardized soaring tasks.  In the case of Boulder, we carefully designed them for our demanding mountain soaring environment. It's paramount that pilots stay safe as they progress. This article introduces these tasks – from Beginner to Diamond.
You can find much more detailed information about these tasks here.
From Beginner to Silver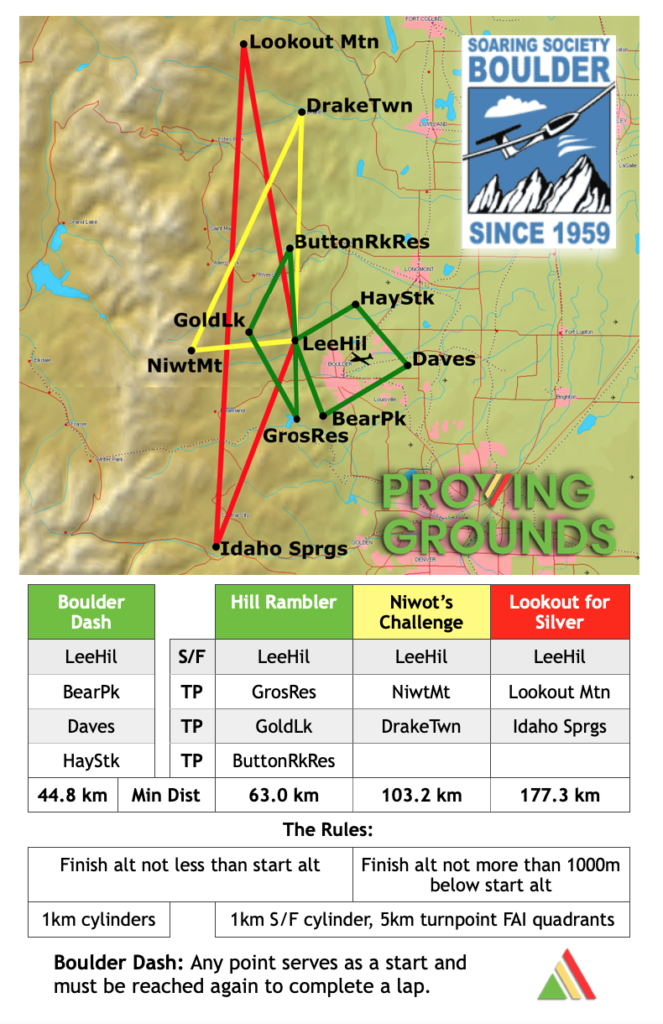 Our first task is called "Boulder Dash."  It is a ~45 km flight around the city of Boulder and takes the pilot never further than 12km (7.5 miles) away from the airport.  It is suitable for any licensed pilot who is able to stay airborne on a good soaring day.  In addition,  the pilot must have the mental bandwidth to maintain situational awareness.  E.g., they must pay close attention at all times to other traffic and airspace constraints.
The tasks build on one another and are getting progressively harder.  "Hill Rambler" introduces pilots to mountain flying over the foothills of the Rocky Mountains.  It also doubles the distance away from the airfield.  However, pilots can easily keep the takeoff airport within safe glide at all times.
"Niwot's Challenge" takes pilots close to the Continental Divide, the spine of the Rocky Mountains.  Pilots learn to carefully manage their altitude to ensure the safety of the flight at all times. The second turn point doubles again the distance away from Boulder. Pilots must consider other landing options should it become necessary.
"Lookout for Silver" builds on everything pilots have learned in the prior three tasks.  Pilots can earn Silver Distance and Silver Altitude – two of the three components of the Silver Badge.  Total task distance is 170 km – a great preparation for earning their other badges.
Proving Grounds Support
These first four tasks will be supported by Proving Grounds.  Proving Grounds is a platform developed by a group of Canadian soaring pilots.  It is super easy to use and provides a low maintenance approach to member development. The Soaring Society of America supports its adoption in the US.  This may be a great opportunity for your club!
Pilots who complete any one of these four tasks can simply email the .igc trace to a "bot" which automatically scores their flight.  Pilots can then post their achievements on a stainless steel task board.  The board will be mounted at the airfield and lists the flights ranked by average speed achieved (adjusted for glider handicap).  The bot provides all the relevant information.
In addition to support by Proving Grounds, our club will provide individual task sheets.  These contain task-specific safety tips (e.g. suggested minimum altitudes, air traffic pointers, potential terrain traps) as well as tactical advice regarding weather, soaring conditions, and how to fly each task.  Pilots are also encouraged to become proficient in the use of a flight recorder – a key requirement for earning their badges.
Our support program does not end there.  The next step is for pilots to work on their Gold and Diamond flights.
Gold and Diamond
"Gold in Glide" is aptly named because this task allows pilots to earn their Gold Distance requirement while staying in glide range of the home airport the entire time.  This is possible thanks to our topography, outstanding soaring conditions, and our club gliders.  During the summer, we can routinely soar to just below Class A airspace (which starts at 18,000 feet).  Our club's two Discus CS gliders are ideally suited for accomplishing all badge tasks.
"Front Range Diamond Goal" and "Front Range Diamond Distance" are task recommendations for pilots who have completed their Gold Badge and are ready to leave glide range for the first time.  However, other airports near the proposed routes help pilots stay safe.  These tasks are mere suggestions: pilots are encouraged to adjust their tasks based on the day's specific weather conditions, e.g. taking advantage of particular energy lines (such as the typical Front Range Convergence).
Our club encourages flight instructors and experienced cross country pilots to support aspiring pilots with ground-based coaching.  Some may even fly some of the tasks with them in our club's DG 505 or via lead-and-follow mentoring.
The goal is to give pilots a framework and support to embrace the challenge of developing from glider pilots to XC mountain soaring pilots without putting themselves in danger.  It may lead to more pilot engagement and long-term retention of valuable club members.
Here's a link to download a presentation with detailed descriptions of all tasks.
If your club has also taken steps (similar or different) to help pilots cross the gap from freshly certificated glider pilot to safe cross-country pilot, I'd love to hear from you in the comments or via email at chessintheair@gmail.com.