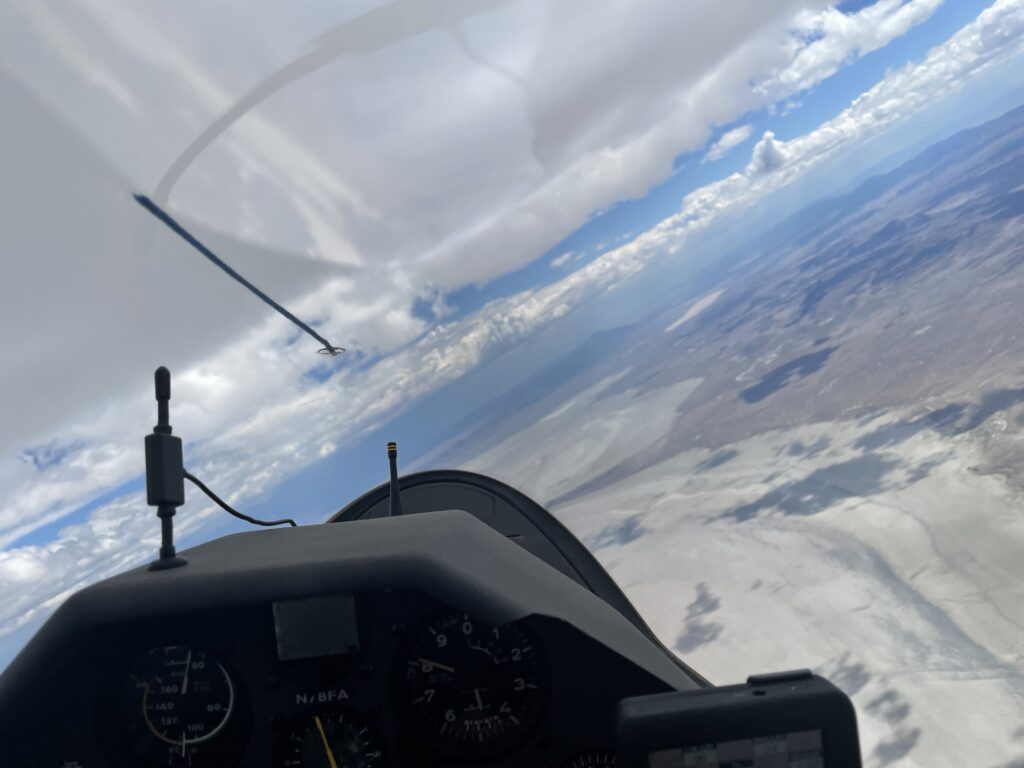 The weather forecast projected early over-development and thunderstorms over the Wasatch Plateau but good soaring conditions over the western desert. And a big storm cell was projected over Mt. Nebo for mid afternoon. The task committee did a good job trying to keep us out of bad weather and declared an Assigned Area Task with two big 30km turn areas at Kanosh Canyon and Pine Peak, followed by two smaller 10km ones at Drum Mountains and Delta Muni. Then back to Nephi. 2:30 hours minimum time. Task distance anywhere from 267 km to 492 km. Yes, kilometers. They seem to be an alien measuring concept for some but I grew up in Europe and find them quite intuitive.
After a somewhat challenging climb-out I hung out at cloud base until task opening time, then everyone was forced to descend to 12,000 feet before climbing back up as high as possible before crossing the start line. This rule tries to make the start fair to those who are late on the grid but it creates a lot of traffic at just below 12,000 feet right before gate opening time.
I escaped the traffic by finding my own clouds further afield but this turned out to be a mistake. I hopped from cloud to cloud not finding anything useful to climb in until most of the field had already gone out on task. I finally was able to cross the start line at 14:45, dead-last and a whopping 25 minutes after the leading (and winning) pack. I was at first angry at myself for taking so long to climb but then I told myself that I just had to fly my own race without any distractions. I felt much better once I put a positive spin on my situation. Mind games. Amazing how this works.
The first leg went blazing fast under a cloud shelf that separated the dryer desert air from the thunderstorm-prone airmass over the mountains. For quite some time my task speed indicator was above 170 kph and my mood was up. Maybe starting late was an advantage.
But when I got to the first turn area, a rain cell just south of Filmore blocked further progress and I had to turn west earlier than I wanted. The cloud line was suboptimal too as it forced me into a detour to the north to stay below the clouds and then cross a big blue hole to get into the second turn area.
Up until that point I had kept in close contact with the clouds but now that I had dropped below 13,000 ft the clouds were no longer working. That's when I remembered my struggles in the start area. Today was a "get high, stay high" kind of day. I went from "race mode" to "stay up mode" and began to search for lift among all the usual suspects. The ground was still far below but it looked positively alien. I suspect all the Mars movies are made in Utah.  I scanned the ground for roads or any sign of civilization but none was in sight. Just sand and rocks as far as the eye could see.
Well, I wasn't very selective with my next thermal. This is no place to get low and I was all alone in the desert with all the other gliders well ahead of me. I centered the next 3kt climb and slowly worked my way back up to cloud base. Once there, the air was buoyant again and things were easy until the next blue hole when they were not.
Turnpoint three brought me into the proximity of the Restricted Area and of course the best looking cloud was over forbidden terrain. Oh well. I took another detour line towards Delta and decided to approach it from the very south as I still had some time to kill so I would not finish under minimum time.
Once I got close to Delta a great looking cloud was right on course towards Nephi but I fell victim to the recency bias and took the next 4kt climb to climb to Final Glide Altitude instead of switching gears back into race mode.
The cloud past Delta delivered the strongest climb of the day, catapulting me up to 2500 feet above Final Glide altitude and from there it was nose down and 125 kts to the finish line, still arriving high.
I thought my task speed of 130kph was respectable but that only lasted until I got a glimpse at the score sheet. John Seaborn finished first with 173 kph, closely followed by four other pilots who also beat the 170 kph mark. Racing against the best in the Nation is a humbling experience as I knew it would be. But it's a great way to learn and I know I can do at least a little bit better.
I should also mention that the landing was rather sporty with significant cross winds gusting to above 20 kts. Half an hour later it was blowing even harder. I hope everyone had safe landings without any damage.
Contest Results: https://members.ssa.org/ContestResults.asp?contestId=2486&ContestDetailId=24100&ContestName=2021+18%2DMeter+Nationals+at+Nephi&ContestDate=6/29/2021&ResultsUpdate=True