Eleven SSB Club members participated at our tour of 10 land-out fields between Boulder and Kelly Airpark near Colorado Springs.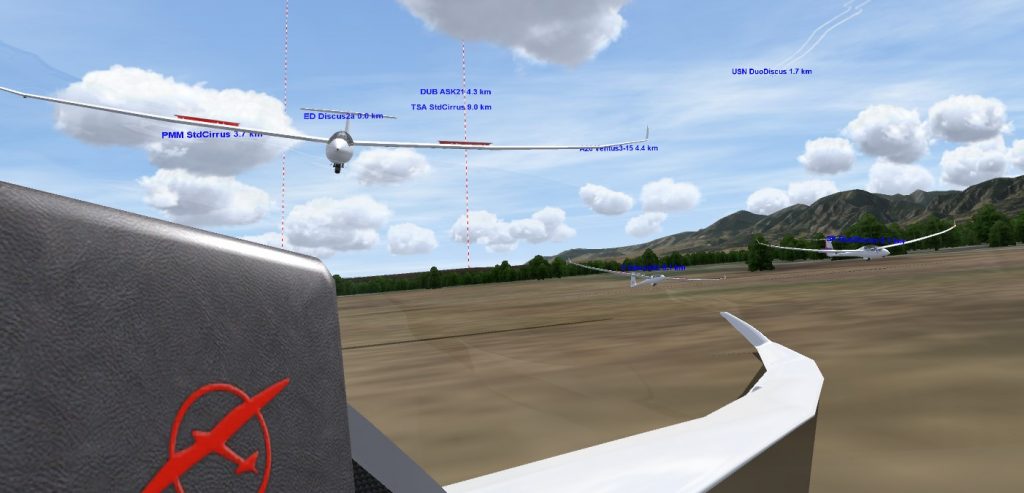 In real life you normally don't get to see the terrain up close.  And for the most part you don't want to.  But Condor provides a great opportunity to do just that, and, even better, to attempt to land in various fields that you normally hope to see only from thousands of feet above.
All in all, we got to do 10 off field landings in just over one hour.  It would take a very adventurous pilot, an extremely committed crew, 10 full days, a lot of money, and an even greater amount of luck to do the same thing in real life.
Pilots who participated on Teamspeak were able to share their local knowledge.  Some live near the fields that we landed in and were intimately familiar with the surroundings.  Others had walked some of the fields in real life and some were able to recount tales of pilots who actually had landed in some of these places.
The feedback was unanimously positive and we will continue with our landout flights in the coming weeks. (Although we may take a break now and then if good soaring weather draws us out into the actual sky.)
Anyone can fly the task on their own at any time.  All you need to do is to take a look at the briefing and download the flightplan here.  (You can find all of our other flight plans here.) The only thing you will miss out on is the conversation  on Teamspeak.  When you refly the task on your own, consider changing the weather settings to see how different conditions may affect your choices.  You can also try it in different gliders.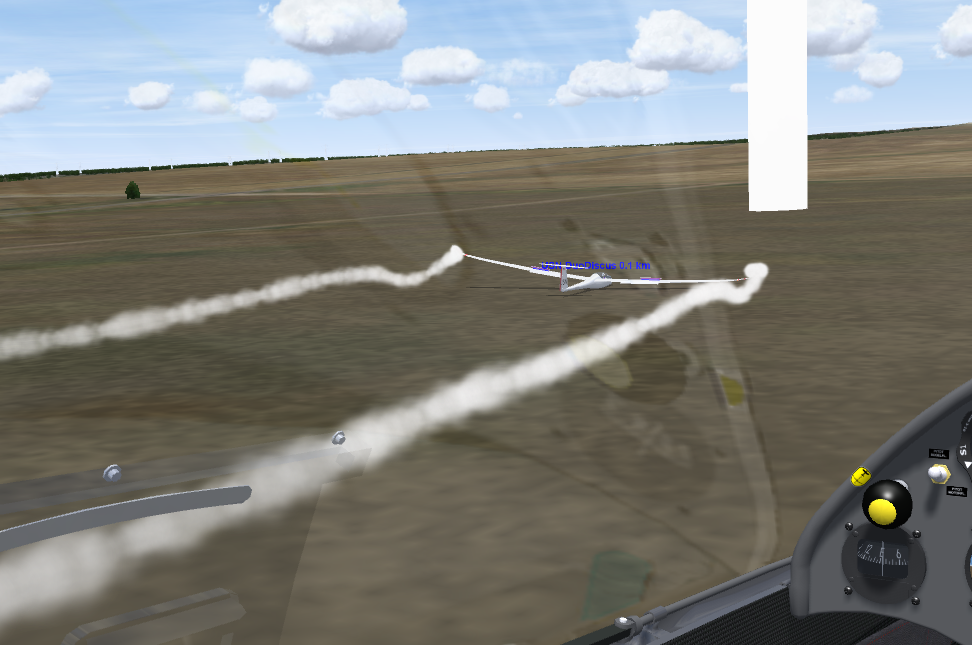 Here's a brief checklist for what you may want to look for when approaching a field:
Size (Length and Width)
Slope
Wind
Surface
Ground Obstacles
Approach Obstacles
Best Landing Direction?
Road Access (or tow out?)
Landmarks to remember where the field is?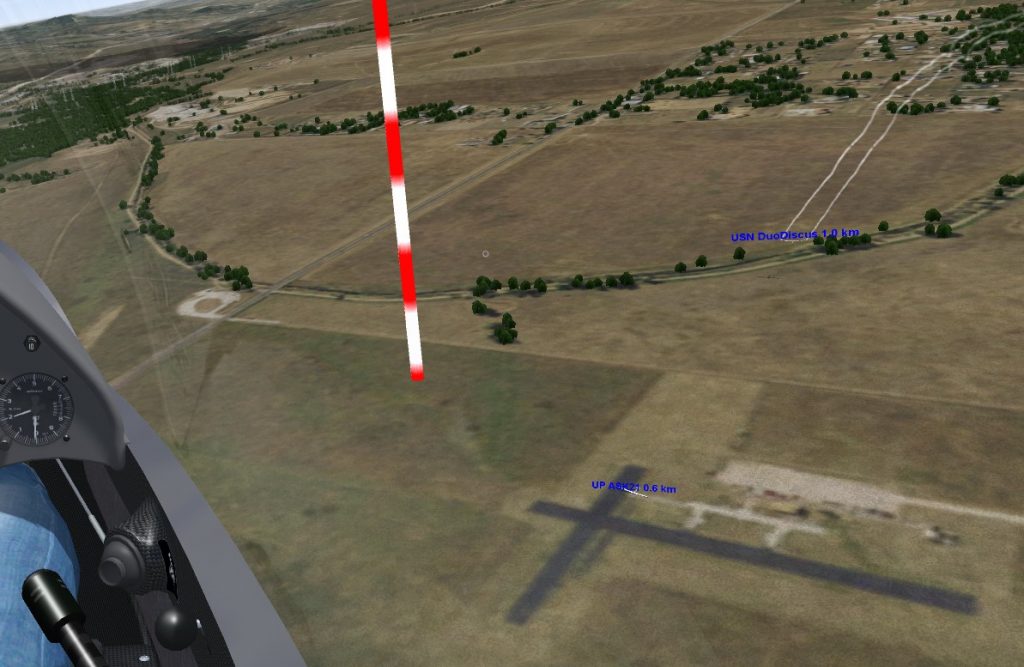 Here are my notes for each of the fields we visited.  The names should correspond to the way-point names in the Condor task file.
(1) Lemon's Field: 1900 x 300
This is the go-to field when you come back low from the south and are not sure that you can safely make it to the normal pattern in Boulder.
It is also a great alternative when there is a strong cross-wind at KBDU because the field's orientation is north-south.
(2) Rocky Flats: 1800 x ?
It's called Rocky Flats for a reason – it's flat and rocky
Per Yankee there may be a slightly better alternative southwest of Leyden – west of the Arvada Model Airstrip.  (Always decide based on your own assessment and own risk.)
(3) Arvada Model Airfield: 735 x 50
Note: per Scott Snyder there may now be two runways so the layout may have changed since the satellite image that is used for the landscape in Condor!  (Verify this for yourself on the ground!)
A precision landing is required with touch down at minimum energy at beginning of runway
Overshooting the field during roll-out might be ok but the terrain is a bit rough beyond the end of the field (just like the surrounding fields)
Watch out for tall power lines in the area surrounding the field. Landing to the west is preferable as power lines are farther away. Plan to fly a relatively steep approach, possibly use a side slip to bleed excessive height once clear of power lines
Land on the northern half of runway to avoid fences on the south side – especially important for gliders with bigger than standard span
People are not allowed on the runway but obviously watch out anyway!
Road access: there is a gate with a padlock along the access road if noone is at the field
(4) Golden Field: 1600 x 250
Sloping up from N to S – land north to south only
Low level power/telephone line along the driveway on the N side – must clear before landing in field; effectively shortens the usable length of the field by about 150-200 feet.
Surface: small rocks and prairie dog holes possible; somewhat uneven; somewhat concave: look for flattest area to avoid wing tips catching terrain
With wind from the north, have to land with a tailwind; field will feel very short and ground speed will feel very high
(5) Brandimere Parking: Upper Lot: 1200 x 200; Lower Lot: 1300 x 125; Carting Track: 1300 x 130
Obviously unusable if parking lots are occupied / busy
Upper lot slopes upwards from N to S; Lower Lot and Carting Track are more flat
The speed track itself is less than 57 ft wide and is therefore unusable
DANGER: Tall light poles around the area (e.g. on the north side on final approach) – easy to overlook and major risk
Yankee pointed out a potential alternative field a little further north between Dinosaur Ridge and I-470.  Be aware that there are hazardous tall power lines in the area and the field is probably only usable from south to north and with great caution.
(6) Jeffco Aeromodelers Field aka Chatfield State Park RC Field: E-W: 690 x 47; N-S: 575 x 40
Which runway with wind from the North?
Surrounding fields are full of prairie dog holes with bushes and rocks
Denver Class B airspace above 10k feet
Access: it's a State Park so access should be easy but expect being questioned by rangers and other bureaucracy
(7) Roxborough Park Road Field: 1400 x 300
Slopes slightly upwards from N to S but pretty flat
Low power line running along Roxborough Park Road – suggests that approach from the W is preferable in calm winds (or in cross wind)
Denver Class B airspace above 10k feet
Usability obviously depends on crops or other field use at the time (e.g. livestock)
Other fields in the area may be landable as well
(8) Perry Park: 5000 x 75; Paved section in south: 3000 x 35
Privately owned airfield; owner Terry Mandel 719-337-4053
Towing out should be possible
Some vegetation near the runway – look for least obstructed section and avoid any obstacles
Southern end is paved with nearby buildings
Gated access from Spruce Mountain Road
(9) Spruce Mountain: 1300 x 300 (in N-S direction)
Uneven grassland, part of Spruce Mountain Open Space
No rocks were visible at site visit but cannot be ruled out
Slight upward slope from N to S but in north wind, can land northbound as well
Barbed wire along the W side of the field
Some low level power lines in the area but none that should affect the landing
Open Space is accessible but not by car and trailer. It may be necessary to disassemble the glider and carry it out in pieces
(10) Green Roof Strip: 2800 x 50 (might actually be wider)
Privately owned airstrip
Condition unknown (have not visited)
Finish: Kelly Airpark
Note that this airport is not really usable in the Beta version of the Boulder scenery at this time.
If you land here you should be able to get a tow out.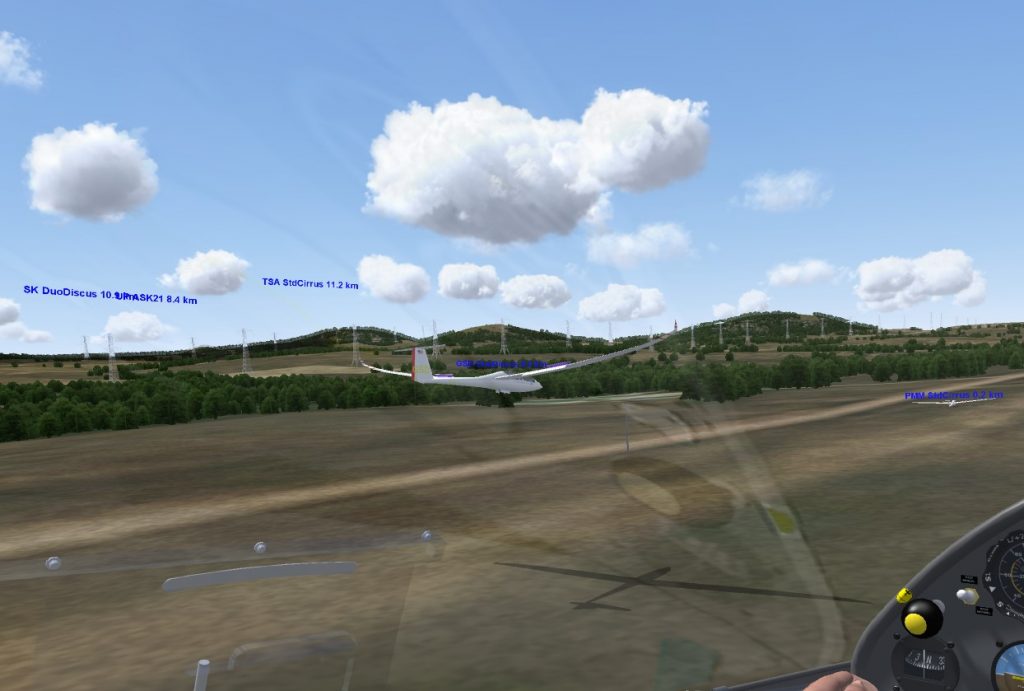 Please remember the caveat and disclaimer that was part of the task briefing.
If you know of usable fields along this stretch that were not part of the flight plan, please email me the GPS coordinates of those fields and I would be happy to adjust the flight plan accordingly.