Results of Flight 1 (Pikes Peak)
The results from the first round of the Virtual Safari Cup are in.   You can see them here.
Congratulations to Armand for the best flight and scoring a full 1000 points (no penalties at all).
Given that this was the first round, Armand obviously also took the overall lead.
It is great to see that none of the six pilots had to use any miracles to complete the course!  Well done everyone!
Note the difference between average speed and points scored.  Glider handicap is important as it is in real life (for Sports Class or Club Class).  The best flight wins after factoring in the handicap.  I.e., you do not have to have the fastest average speed to win if you don't fly the highest performing glider.
If you want to refly task 1 you can download the flight plan here.  Also, here is the flight trace or Armand's winning flight if you want to practice flying against a "ghost".
Flight 2 (Mosquito Range)
In real life, there is outstanding soaring weather projected for Boulder tomorrow.  I plan to be flying my real glider and won't be able to make our team Condor flight.  However, I will program the server to start at the usual time (Thursday at 5:30PM) for the second task of the 14er Safari Cup. 
I may not be the only one flying in real life tomorrow and I will therefore offer a second opportunity for a team flight before Tuesday.  Probably on Saturday at 5:30PM as the real-life forecast is for Thunderstorms and rain in Boulder.  I will also publish the flight plan and you can fly it offline at a different time if you prefer (but it's always more fun to fly during multiplayer team flights.)
Briefing 
The flight will begin airborn at Fremont County Airport (Canon City).  The start will be a few miles north of the airport.  Maximum start altitude is 3,400 meters.  You will cross South Park, fly into the Mosquito Range and round various 14er turn points before heading to the finish at Buena Vista.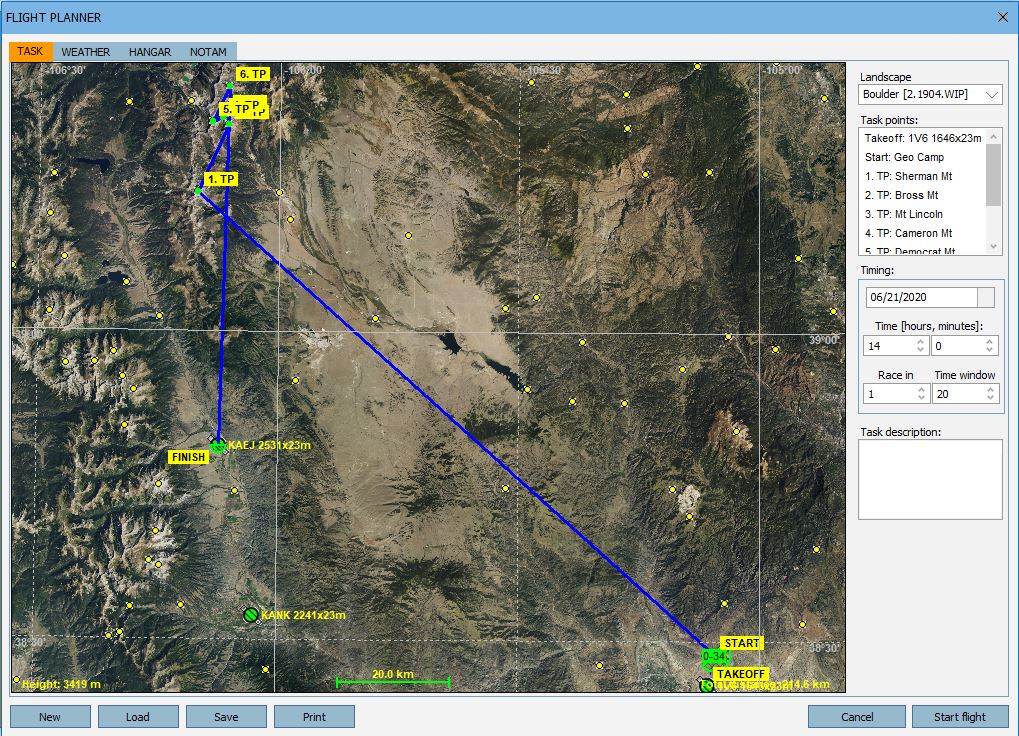 This week's 14ers will be (in order of the task):
Mt Sherman
Mt Bross
Mt Lincoln
Cameron Mt
Mt Democrat
Quandary Peak
All of these 14ers can be also reached from Boulder in a real glider but you will be out of glide range from Boulder and have to be comfortable flying across South Park.  There are no airports in South Park but the area is fairly flat (especially in the north) and there are a number of landable fields.
If you wish to practice field landings in South Park, here you can download a flight plan that will take you to several of them.  (This is not the flight plan for tomorrow's race.  It is just a practice flight for those who wish to go to landout fields in South Park.)  Remember, I cannot take any responsibility whatsoever that any of these fields is actually really land-able in real life.  (I visited several of these fields on the ground.  One of them was a private airstrip and it looked great; however, there was a huge bull standing right in the middle of the runway when I visited.  This illustrates some of the challenges with field landings.  You can never be certain that a field will work until you get there…)
Back to the task for tomorrow: the finish will be at Buena Vista airport and there is no minimum finish altitude (you can finish right on the deck at 1 ft above the ground, pull up and land).
The weather will be strong soaring weather with wide and strong thermals and low variation.  Thermal activity will be high, especially over the mountains.  Maybe a little less active over the flat South Park area.    Cloud bases will be high but may feel a little less so because of the height of the terrain.  South Park is at about 10,000 feet.  Thermals will be moderately turbulent, this means you may have to recenter them a bit from time to time as a you climb.
The wind will be from the south-east at about 12-15 kts, maybe up to 18 kts at altitude. There may be some ridge lift on south east facing flanks of the mountains and sink in the lee. Take that into account.  Wave will not be a factor and cirrus cover will be 2/8 – so there should be minimal impact on the thermals.
You can fly gliders and scores will be handicapped as usual. Flying with full ballast will once again be advantageous if you want to make quick progress.
Don't forget to email me your .igc trace (not the .ftr trace) after your flight to get it scored.
For those who are new to our team flights, you can join anytime.  You will find more information here.  Feel free to reach out if you have additional questions.
Have fun and good luck!