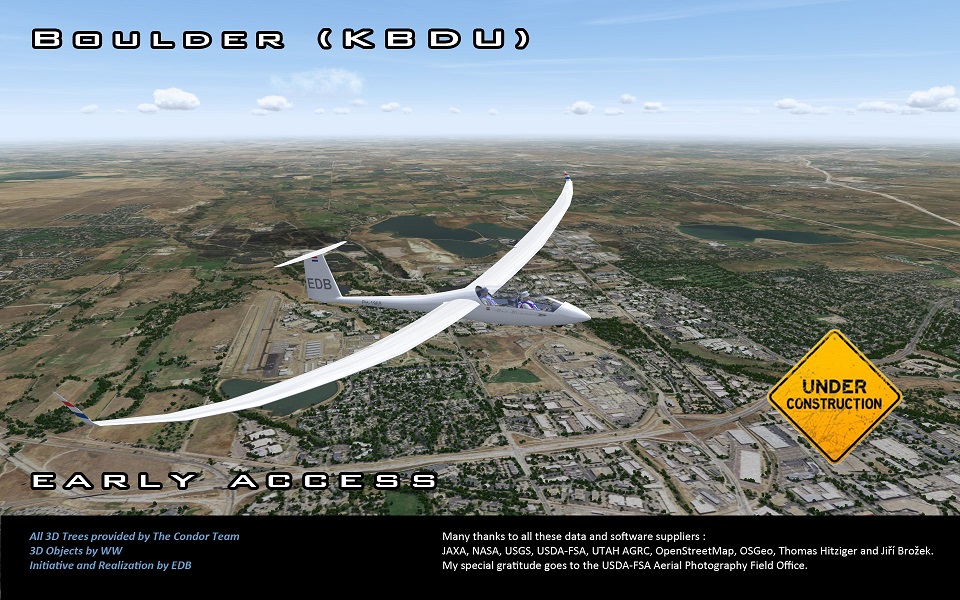 The Boulder scenery for Condor2 is currently in Beta and not yet publicly available.  It covers most of the Colorado Rocky Mountains and will be named after our home location.  The landscape designer, Erwin de Bruin, is a world-class Condor pilot in the Netherlands and a former glider pilot in real life.  He has graciously agreed that we can use the Beta version within SSB for club internal use.
The scenery is already perfectly flyable.   Erik would like to polish some things before he releases it publicly.  This includes support for more airports to take off from, more landscape details at certain airports including KBDU, color adjustments for Wyoming, adjustments to the tree line, and some fine-tuning of the invisible thermal map.
Because the scenery is in Beta, the normal installation tool, Condor Updater, does not support it.  Instead you will have to do a manual install.  This is not difficult but it is easy to make a mistake and waste a lot of time.  To help you prevent this, I wrote this brief installation guide.
Disclaimer: I obviously cannot take any responsibility for the scenery.  I have installed it myself and it works very well and there have been no issues.  However, there are always risks with downloading software created by others.  If you decide to install it you proceed at your own risk.
Note: before you begin the installation, consider that the Boulder scenery alone will take up about 35 gigabytes of hard drive space.  If you don't have that much space available on the hard drive where you have your Condor Landscapes folder, it is possible to install the scenery on an external drive while leaving Condor installed where it is.  This would take a few extra steps that are not covered in these instructions.  Please contact me if you need help with this.
To install the scenery follow these steps:
1) Download the Main Scenery File
Click on Boulder_2.1904.WIP_MAIN
This will open a screen that looks like this:

The first 2 files are text files.  You can read them but I don't think they serve any functional purpose.
The first critical key file is the last one on this list.  It contains the backbone of the scenery but not the textures.  Click on it to download it.
2) Download the Texture Files
Click on: Boulder_2.1904.WIP_TEXTURES
This will open a Google Drive screen that will look like this:

The first 12 files (the ones with blue icons) are texture files.  (They contain a lot of graphical image files that will make the scenery look real.)
The second to last file is a text file.
The last file (shown in green) is an executable installation file.  This one is critical to install the textures.
You need to click on each of these files to download them individually.   You can start the download for all of them simultaneously but they are big files so this will take a while.
Important:  when you get to the executable file (the green one), Windows may even resist downloading it.  You may need to select "Keep" at the bottom left of your browser window (see screenshot below).  This is easy to overlook but you cannot install the textures without this file!

3) Installation
Once you have downloaded all the files, it is time to install them.
Condor's default location for sceneries is the landscape directory.  On your computer you will probably find it under C: >Condor2 > Landscapes.
I don't know if this is necessary, but I suggest you move all the downloaded files (the two executables and all the texture files plus any text files that you downloaded) into the Landscapes folder.
Once you have done that, run first the MAIN file (Boulder_2.1904.WIP_MAIN).
Depending on your Windows / virus protection settings you may get warning messages when you try to run these executable files.  You will have to override these and trust the source.  Otherwise you cannot install the files. This may look like the following: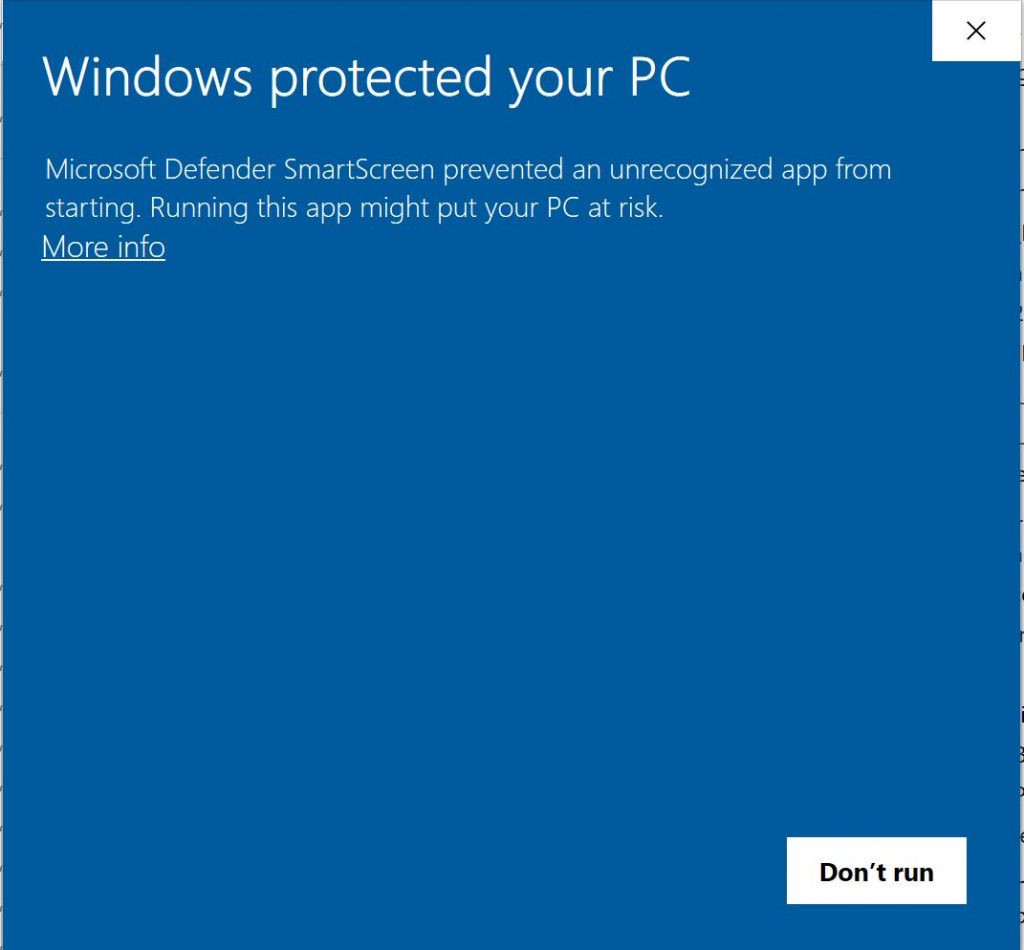 If you see this, you will need to click on "More info".  This will give you some additional warning message but also an option to overide this by clicking on "Run anyway".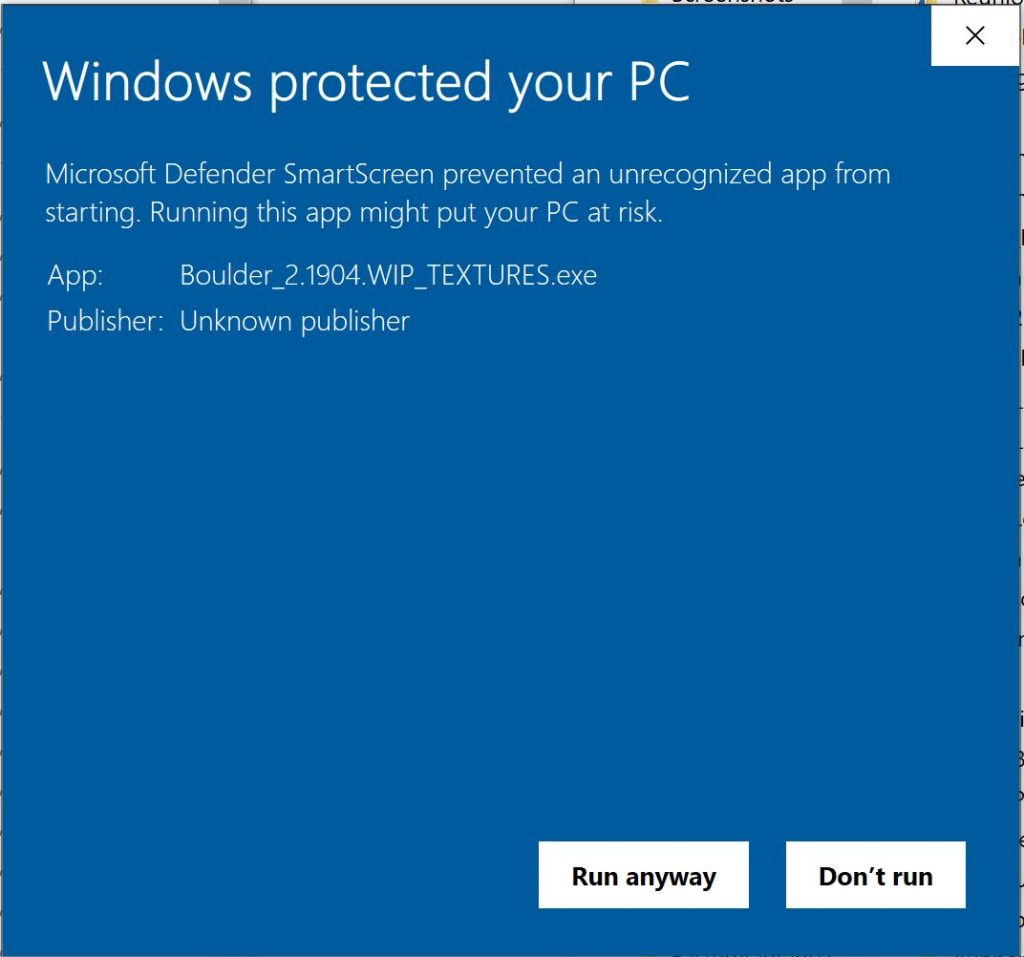 Once you've successfully installed the main executable file you must also run the executable file to install the textures.  The file name is: Boulder_2.1904.WIP_TEXTURES.
You may get the same warning messages.
Make sure you complete the installation.
4) Test if it works
Launch your Condor2 application.  From the main menu select "Free Flight".
This will take you into the Flight Planner.  At the top right you should see a drop down menu labelled "Landscape".  Within that drop down menu you should now find "Boulder".  Select it.
Now find KBDU on the map and click on Boulder for takeoff and start and select a nearby point as turnpoint, then go back to KBDU to finish.  Select a glider, make any changes to the weather conditions that you like, then click "Start Flight".  You should find yourself on the runway at KBDU, ready for takeoff.   Congratulations, you're ready to fly from Boulder!